---
Since 1981 the Office of Information and Regulatory Affairs (OIRA) has reviewed significant regulations and assessed the quality of agencies' accompanying analysis to ensure benefits exceed costs. Today, it is also responsible for overseeing the implementation of President Trump's ongoing effort to cut regulatory red tape.
The Administration's push to deregulate, though unlikely to meet the President's goal of returning to 1960s levels, piles more work on the regulatory agencies and OIRA alike. New executive orders require each agency to appoint a regulatory reform officer to implement a cap on regulatory costs, in addition to ensuring that two rules are eliminated for every one rule added. What do these new requirements mean for OIRA and agency regulatory staffing?
Sizing Up the Regulatory Landscape
A look at the annual Regulator's Budget, a joint effort between the GW Regulatory Studies Center and the Weidenbaum Center at Washington University in St. Louis, shows President Trump's Budget proposes to maintain regulatory agencies' FY 2018 fiscal outlay at FY 2017 levels, while reducing agency staffing by less than 1%. This bird's-eye view hides the notable increased support for regulators in the Department of Homeland Security, offset by decreases in staffing and funding for agencies like the Consumer Financial Protection Bureau and Environmental Protection Agency. Further beneath the surface, changes to the small staff of OIRA easily go unnoticed.
OIRA under Administrations Past and Present
When OIRA began in 1981, its staff consisted of 75 full-time equivalent (FTE) employees. The number of FTEs fluctuates over time but has generally trended downwards since then, with its smallest staff in 1999 at 41 FTEs. In the last 2 years, OIRA reached a staff of 50 for the first time since 2005; still two-thirds the size of the 1981 staff. For comparison, the total number of regulatory agency staff has nearly doubled since 1981, from 146,408 to approximately 280,269 FTEs. (See figure.) At 191% of its 1981 size, the administrative state has grown steadily, along with extensions of executive rulemaking in general. Despite the increasing responsibilities given to OIRA, the lack of significant growth in number of employees over the last few decades is noteworthy.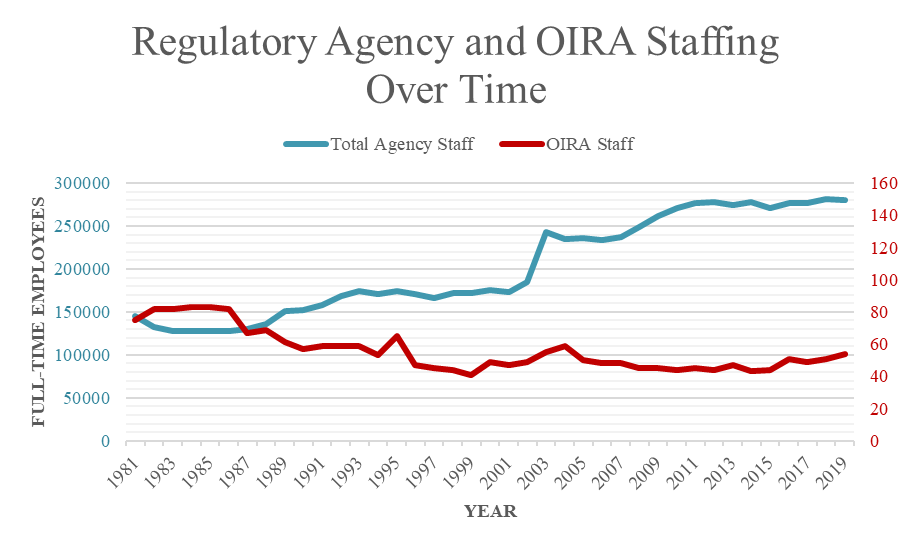 This year OIRA reports a staff of 54; three more people than last year. For a small agency, this constitutes a considerable increase of nearly 6% in staffing, with a negligible budgetary change. OIRA Administrator Neomi Rao recently commented on this growth, indicating that her office is "in the process of hiring, especially in the tax area." An agreement with the Treasury Department to bring IRS regulations under OIRA review fueled this change. Adding IRS rules to OIRA's plate might indicate the beginning of further expansion.
OIRA does not currently review the regulations of independent regulatory commissions (IRCs), however, there is increasing interest in changing that. If reining in IRCs, like the Securities and Exchange Commission and the Federal Communications Commission, rises to the top as a priority for the Trump Administration, more demands would be placed on OIRA's limited resources. According to Rao, she runs a small office and does not "need that many resources to have a substantial expansion," recognizing the efficiency of her team and the high-benefit, low-cost service they provide in the regulatory sphere. That said, she mentioned potential "interest in Congress to provide OIRA with more funding" in the coming years, noting that she "would welcome more funding."
If President Trump is serious about regulatory reform, this important office will need more resources. The latest executive orders add to OIRA's responsibilities, and the scope of its review as it covers tax regulations and possibly independent agencies' rules, is also growing.  Increasing OIRA resources could demonstrate a firm commitment to bolstering this vital agency for years to come.