Congressional Review Act
The Congressional Review Act (CRA) enables Congress to disapprove a final rule issued by a federal agency. A rule disapproved using this mechanism is not only nullified; the agency is also prevented from reissuing a "substantially similar" rule in the future unless Congress authorizes it to do so via subsequent legislation. Congress generally has 60 days to review rules, but there is a provision that also allows an incoming Congress to review the last 60 days of rules issued during the previous Congress.
Read our most recent working paper by Steven J. Balla, Bridget C.E. Dooling, and Daniel R. Pérez: Beyond Republicans and the Disapproval of Regulations
---
---
---
We will actively update our Congressional Review Act Tracker (Google Sheets) with resolutions introduced introduced under the Biden administration.
---
---
---
---
This Regulatory Insight provides a detailed explanation into what the Congressional Review Act is, how it has been utilized, and what effect it has had on the rulemaking process.  After providing a brief background on the CRA this report reviews the mechanisms for disapproval of rules by the House and Senate, and explains the Special Lookback Provision which may leave you questioning the definition of a "day." Next we dive into what the ramifications are for rules disapproved by Congress, and recaps the types of actions that are subject to CRA disapproval.  Additional readings from the Congressional Research Service are also provided.
---
Bridget Dooling joined Kevin Kosar (senior fellow at the American Enterprise Institute) on the Understandinig Congress podcast to discuss the intricacies of the Congressional Review Act.
---
Rules in the Congressional Review Act Window
Data and charts on the rules published at the end of the Trump administration that could be nullified under the CRA.
 View rules in the CRA Window (Google Sheets) |  Download Rules in the CRA Window (GWU box)
---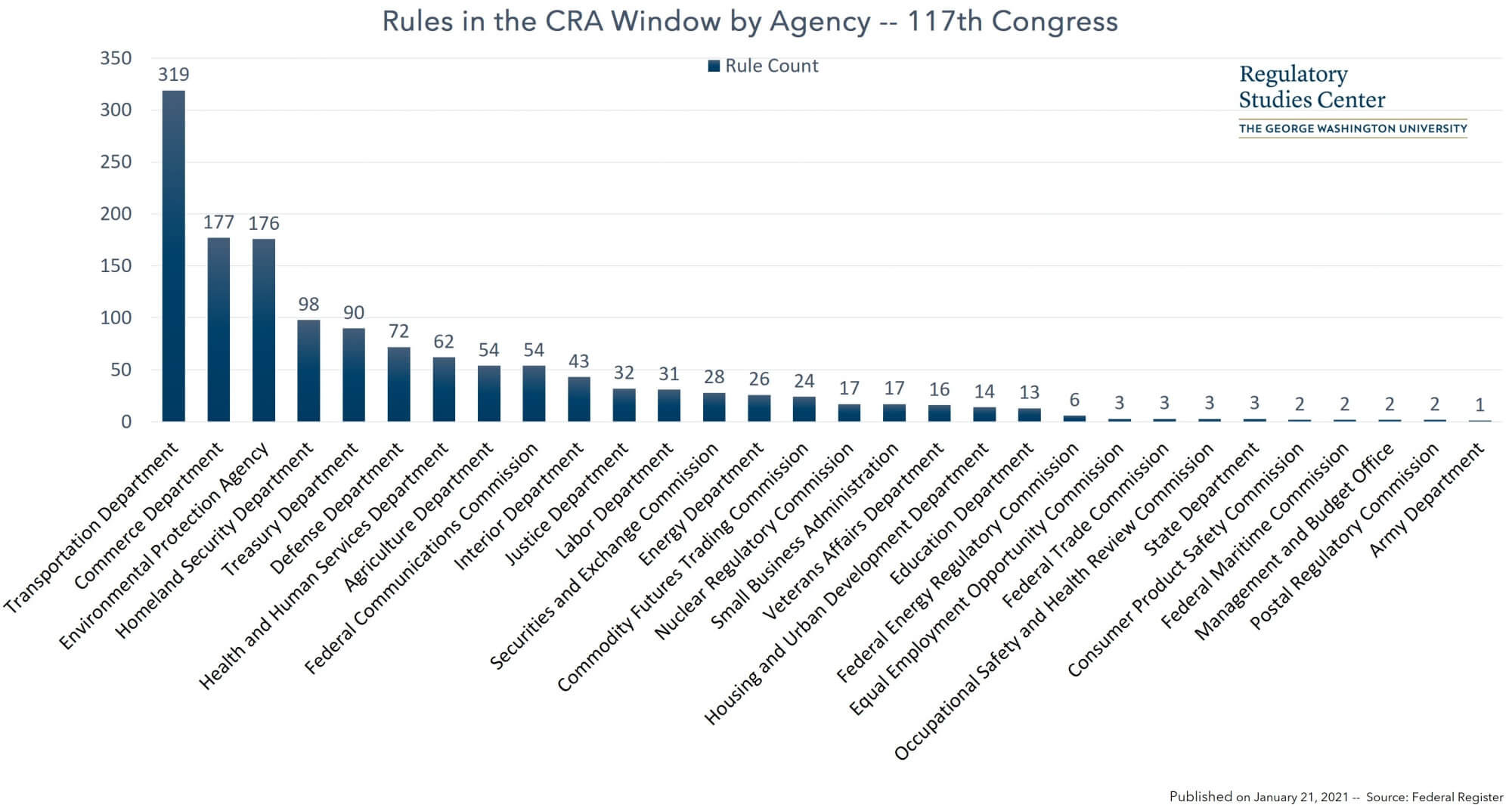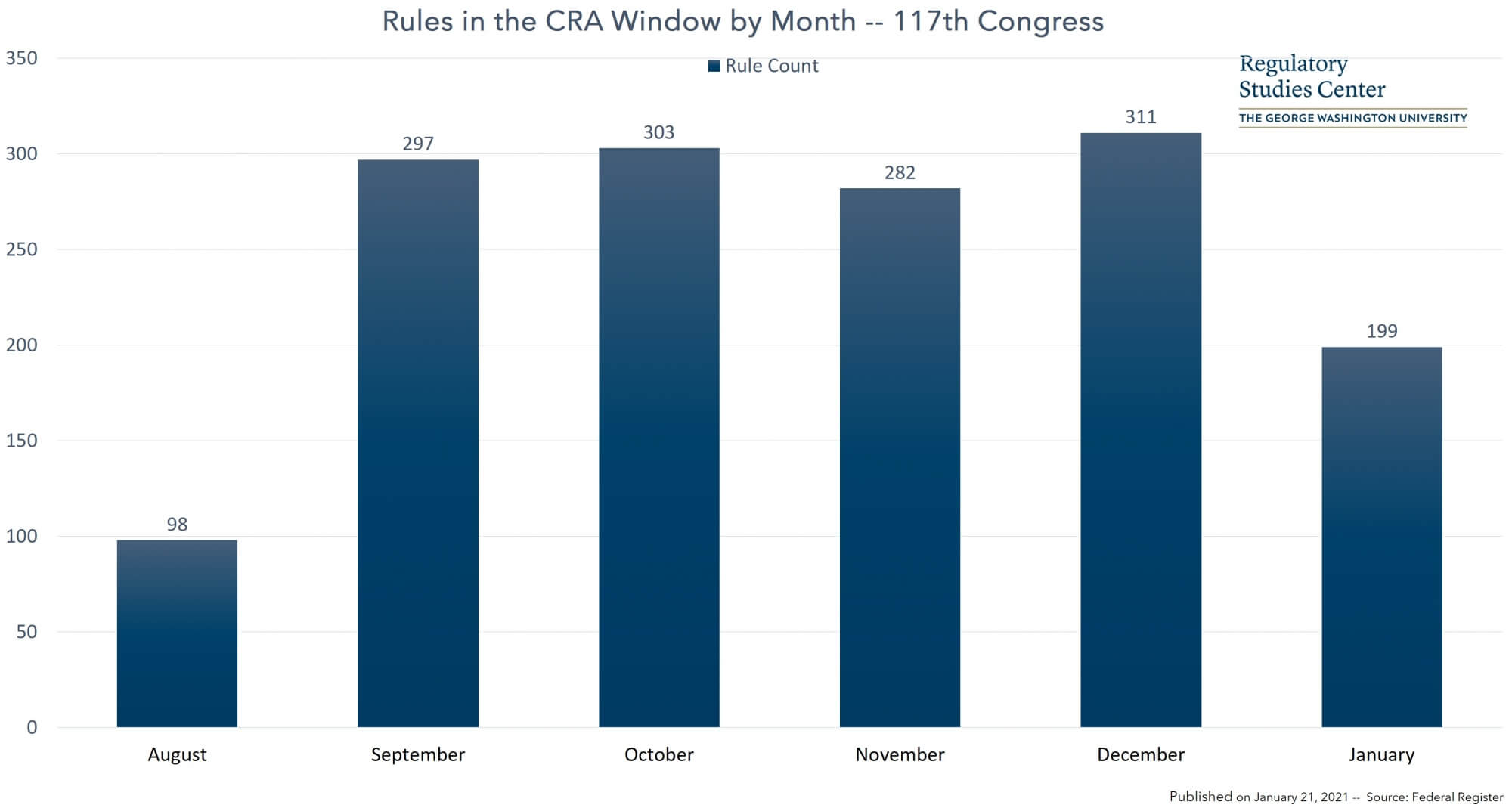 ---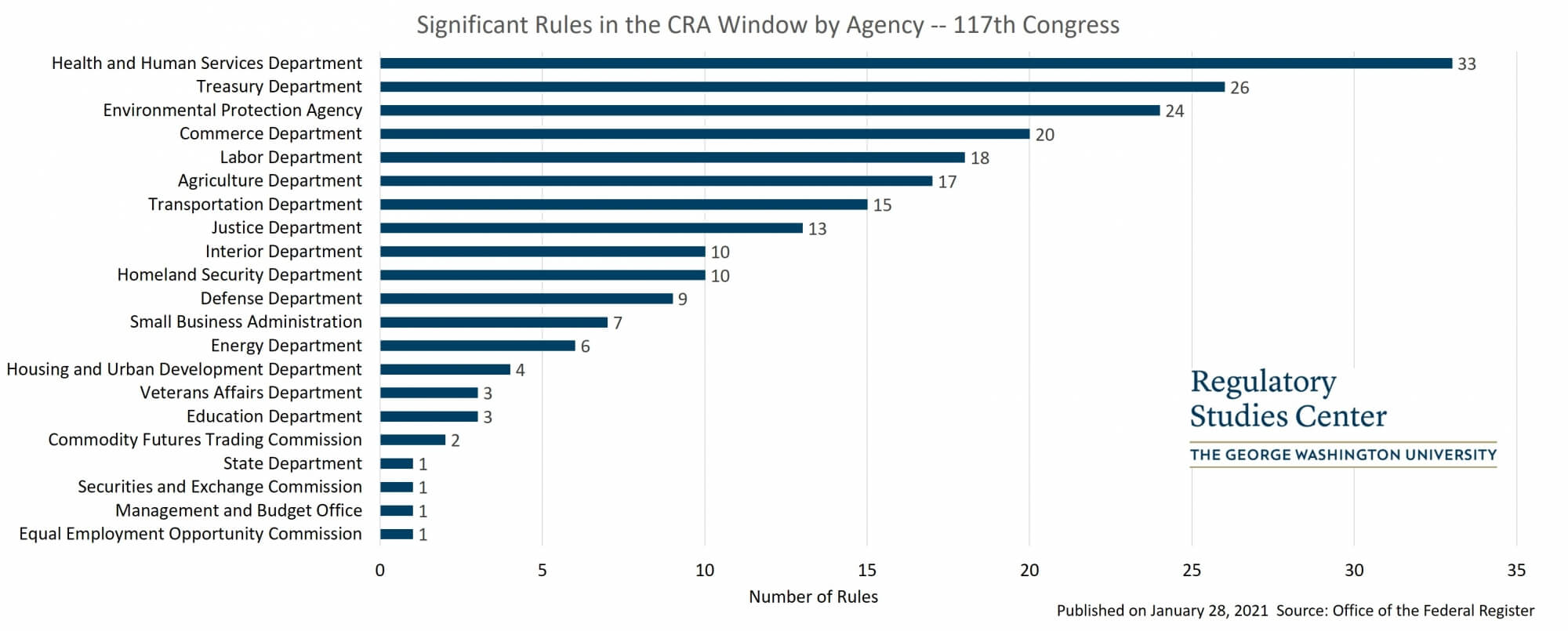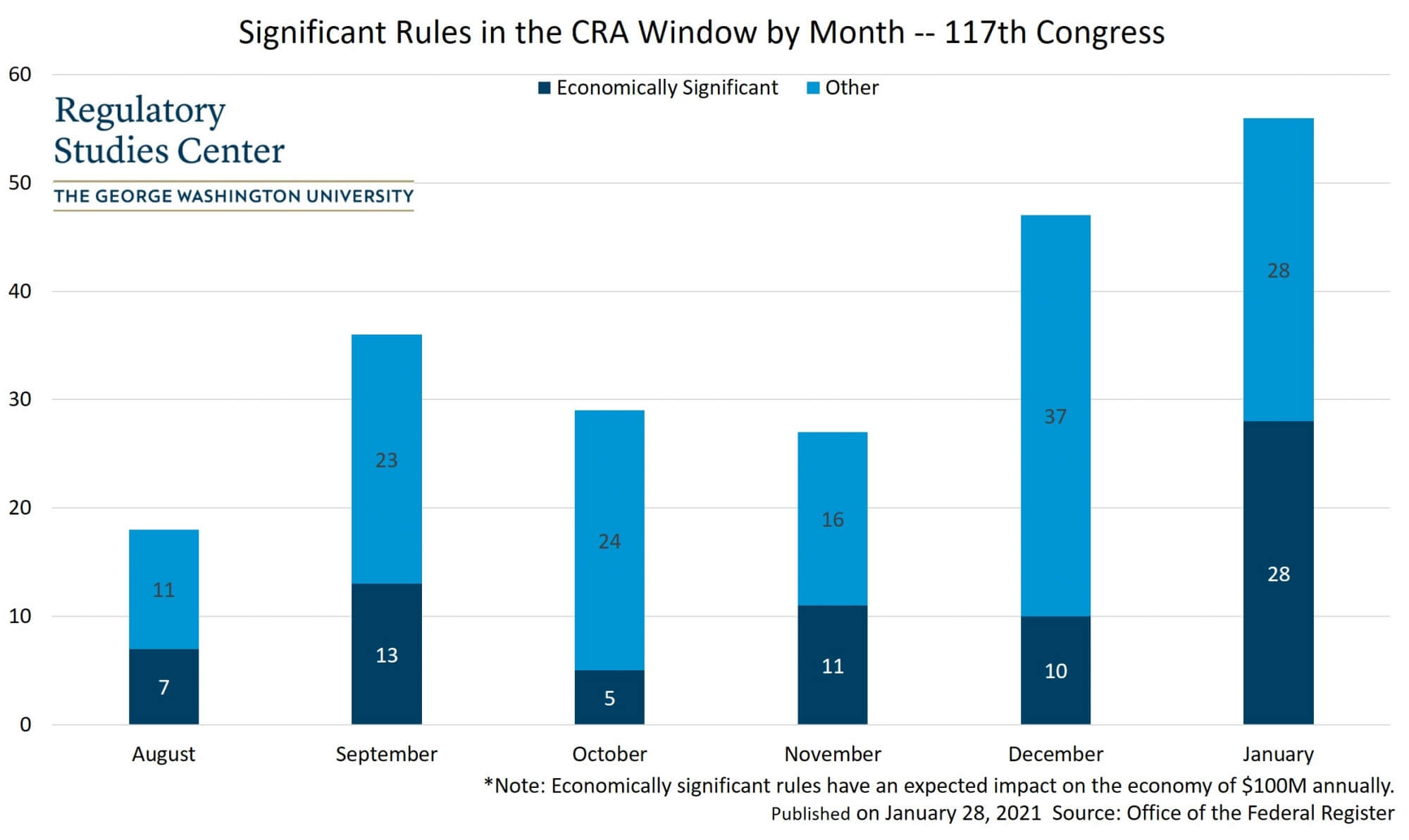 ---
---
Congressional Review Act Tracker under the Trump Administration
This Congressional Review Act Tracker provides a list of affirmative actions that at least one chamber of Congress took to disapprove of a rule issued by an agency during the previous session.  You will be able to see each of the resolutions by Congress, what agency issued the rule, and when Congress or the president took action.
---

A step-by-step guide showing how the lookback provision functions within Congress.
---
3/23/20 - By Steven J. Balla, Bridget C.E. Dooling & Daniel R. Pérez
The CRA, under which the United States Congress deploys expedited procedures to disapprove agency regulations, has long been viewed as a powerful but rarely exploited means of legislative oversight. This paper examines legislative action—introductions, cosponsorship, and votes—on resolutions of disapproval by committees, political parties, and congressional majorities. This approach advances understanding of the CRA beyond extant emphasis on Republicans nullifying regulations in concert with co-partisan presidents immediately following transitions from Democratic administrations. A series of statistics and visualizations illustrates that both Republicans and Democrats, as well as committees of jurisdiction, have been pivotal in accounting for the persistence of action on resolutions during the twenty-five years in which the CRA has been in effect. These findings, derived from the complete set of resolutions considered between 1996 and 2020, provide evidence that the CRA has become an institutionalized instrument of oversight of regulatory policymaking.
1/21/20 - By Bridget C.E. Dooling, American University Law Review
Known mostly for its role as an auditor, the Government Accountability Office's activities have expanded over time. As part of this expansion, the GAO became a referee in an increasingly important part of the administrative state: determining which actions are "rules" under the Congressional Review Act. The significance of these opinions, which are not binding as a matter of law, has grown as legislators use them strategically in regulatory politics.
12/11/19 - By Daniel R. Pérez
The Congressional Review Act allows Congress to disapprove regulations issued by agencies and contains a lookback provision that places almost six months of rulemaking in jeopardy of elimination by the next Congress. The window for this period of review opens in 2020, but agencies will have to weigh the tradeoffs of rushing to publish their rules before the window. According to the 2020 House calendar, any rules issued after May 19, 2020 may be subject to review by the 117th Congress. However, historical data suggest the lookback period is more likely to begin sometime in July or early August of 2020.
10/31/17 - By Susan E. Dudley
Op-ed in Forbes
Though the window for disapproving rules seemed to close in May, the CRA is not quite ready for mothballs yet. Not only did Congress disapprove a CFPB rule last week, but it appears poised to veto agency guidance documents using new interpretations from GAO and the Senate Parliamentarian.
11/8/17 - By Susan E. Dudley
Congress continues to make history by exercising its powers under the CRA to eliminate rules issued at the end of the Obama administration. To date, 13 resolutions of disapproval have passed both chambers of Congress; two additional bills have passed the House. President Trump has signed eight of these into law with three additional resolutions awaiting his signature. Finally, the Senate passed two more resolutions on March 30th which should be sent to the president soon. Prior to 2017, Congress had only successfully struck down a single rule using the CRA.
4/4/17 - By Daniel R. Pérez
The 115th Congress has wasted no time in exercising its powers under the Congressional Review Act to eliminate regulations issued by federal agencies during the Obama administration. Currently, eight joint resolutions of disapproval have passed the House—two of which were delivered to the president for his signature on February 6. President Trump signed one of these into law on February 14. This marks the first time in 16 years since Congress has successfully used the CRA to eliminate a regulation.
3/7/17 - By Susan E. Dudley
Op-ed in Forbes 
Congress and the president have used the Congressional Review Act to overturn three rules issued in the waning days of the Obama Administration. But, there's new interest in the possibility that the Act's coverage extends beyond these so-called "midnight regulations."
2/15/17 - By Daniel R. Pérez
The CRA has been getting much attention recently. Not only did President Trump sign his fifteenth resolution disapproving a CFPB regulation last week, but this action marked the first time a president had disapproved a regulation issued during his own tenure. Congress is also taking steps to apply the CRA to guidance documents and other non-APA agency regulatory actions. These recent actions suggest the CRA is likely to continue to influence the development, implementation, and enforcement of regulation.